" HI! I AM N.O.R.I.! NICE TO MEET YOU! "
— First meeting N.O.R.I. in MySims Adventure

N.O.R.I. (alternatively spelled as NORI) is T.O.B.O.R.'s little sister who debuted in MySims Adventure. She is technically the sister of Makoto and T.O.B.O.R., and is the youngest of the three.
Appearances
Original
For N.O.R.I.'s original page, see here.
Trivia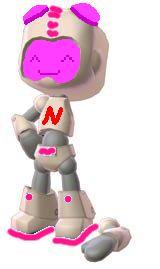 N.O.R.I.'s name is IRON spelled backwards
According to N.O.R.I., her name stands for two things:

Nainsook Of Real Iron (as Alexa programmed)
Nectarine Orange Raspberry Iyokan (as Dr. F programmed)

Ironically, "Nainsook" means 'a fine cotton fabric'.

N.O.R.I. was the first original character to be created on the wiki, being created on the day the wiki was created.
In reality, N.O.R.I. is only a few days old. Although she was programmed to behave like a 15-17 year old.
Ad blocker interference detected!
Wikia is a free-to-use site that makes money from advertising. We have a modified experience for viewers using ad blockers

Wikia is not accessible if you've made further modifications. Remove the custom ad blocker rule(s) and the page will load as expected.