Plot
Come back over to [town name] and start movin' in some Sims!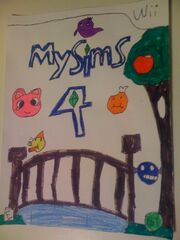 Design houses and more!
Characters
Star Level 0
Buddy the Bellhop
Rosalyn P. Marshall
Poppy
Violet Nightshade
Patrick Rhino
Cassandra
Star Level 1
Summer
Tad "Flipper" McCaffery
DJ Candy "Supergroove"
Rhonda
Chaz McFreely
Vic Vector
Jenny
Stephen
Clayton Dander
Pinky
Star Level 2
Roger
Professer Nova
Ms.Nicole Vouge
Elmira Clamp
Chef Gino Delicioso
Sir Vincent Skullinder
Travis
Roxie Road
Shirley
Star Level 3
Master Aran
Sandra
Dr.F
Gertrude Spackle
Clara
Dolly Dearheart
Gordon
Matt
Maria
Chef Watanabe
Ray
Goth Boy
Star Level 4
Cap'n Ginny
Annie Radd
Ian Arneson
Liberty
Bean Bradley
Jeremy Snoars
Trevor Verily
Amelia
Grandma Ruthie
Edwin
Raven
Madame Zoe
Star Level 5
Odin Revolution
Daryl
Star
Brendan
Hopper
Beebee
Linda
Makoto
Sasha
Chancellor Ikara
Crystal
Yuki
Morcobus
Iggy
Star Level 6
Billy
Penelope
Samurai Bob
Abigail
Eliza
Iggy
Jimmy Watanabe
Mel
Blaine
Brandi
Star Level Secret
Pablo
Rob Jarret
Spencer
Renee
Taylor
Luis
Yvette
Karine
Noelle
Esma
Granny Selena
King Roland
Lindsay
Chef Charlie Delicioso
Chef Stephania Delicioso
Helen
Auntie Crumplebottom
Derek
Madison Gray
Valerie Ruthie
Calvin Ruthie
Camila Radd
Angelica
Tashima
Kalii
Wolfah
Mrs.Prissykins
Weather
Dogwood
Ai
Micheal
Patricia Goth
105 Sims in all *I may have counted wrong*
Lots
[town name]:20 lots (23 if you kick out Poppy,Patrick and Violet)
Cowboy Junction:30 lots
Cutopia:15 lots
Candypalooza:20 lots
The Royal Academy:10 lots
Spookane:10 lots
New

Essences
Basket Ball (FUN)
Barret (CUTE)
Wand (GEEKY)
Phone (FUN)
Backpack (STUDIOUS)
Chicken Wing (TASTY)
Fang (SPOOKY)
Ad blocker interference detected!
Wikia is a free-to-use site that makes money from advertising. We have a modified experience for viewers using ad blockers

Wikia is not accessible if you've made further modifications. Remove the custom ad blocker rule(s) and the page will load as expected.