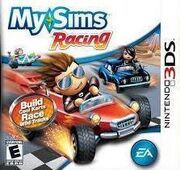 MySims Racing (3DS)
is a MySims game for the 3DS. The player has to try to stop
Morcubus
from taking over racing spirit! The player teams up with
Gabby
once again to stop Morcubus. 
Characters
When you are playing, you will find new and old sims in the game. These sims are:
Playable (Racers):
Non-Playable:
Morcucorp
Townie's
Racetracks
There are new racetracks on MySims Racing (3DS). There is a new thing called "Retro Tracks", where there are tracks from older MySims Racing's. The new tracks are:
New Tracks:
Super Speedway
MySims Raceway 2
Canyon Falls
Mars Ride
Volcanic Island
Icicle Vally
Beach Fun
Returning Tracks:
DS MySims Raceway
Wii Pinball Canyon
DS Cruise-Line Chase
Wii Racing School
DS Forest Bluffs
Wii Misty Motorway
DS Polar Pursuit
Trivia
The thing of "Retro Tracks" might be a reference to "Mario Kart".
Ad blocker interference detected!
Wikia is a free-to-use site that makes money from advertising. We have a modified experience for viewers using ad blockers

Wikia is not accessible if you've made further modifications. Remove the custom ad blocker rule(s) and the page will load as expected.