MySims Agents: The mystery of Nightshade
MySims Agents: The mystery of Nightshade is a fanon game made by me! In this game, Buddy and you will have to investigate the mystery of Nightshade. Investigate about the antecesors of the family, and Poppy is kidnapped by Morcubus. During the game, will join the team of agents Violet to protect your family. You will visit many places know and unknow: the Mansion Bourdreaux, Cutopia, Spookane and many new sites, as the family cementery or MorcuCorp company.
Violet wants to protect Poppy, but she is kidnapped by Brandi and Esma and is brought to Morcubus company to work for him. Violet calls secret agents are tasked his new great mission. Violet will want to hepl them. They fly in the jet, investigate the new plan of Morcubus and discover the great truth of the Nightshade Family: They have something Morcubus wants for himself.
The game in Nintendo DS
In this occasion, the Wii game was the same weft and characters in the NDS, not as in the original MySims Agents, that a change of platform changes history.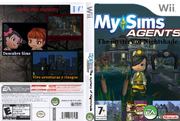 Sims that appear
Violet Nightshade
Poppy
Cassandra
Morcubus
Yuki
Esma
Brandi
Evelyn Gray
Skip Rogers
Walker
Barney
Duchess Beverly
Gonk
Sylvia
Leaf
Lord Daniel
Petal
Proto-Makoto
Dj Candy
Shappire
Zack
Zombie Carl
Alexa Lexington
Wendalyn
Mira Cull
Beebee
Blaine
Buddy
Cap'n Ginny
Chaz McFreely
Chef Gino
Crystal
Dr. F
Goth Boy
Jenny
Liberty
Travis
Summer
Madame Zoe
Mel the mummy
Mss Nicole Voge
Raven Wright
Ray
Rhonda
Roxie Road
Star
Sir Vincent
Vic Vector
Trevor Verily
Yvette
Gordon
Dogwood
This article/section is currently under construction


Since this article/section is incomplete, expect several changes to this content.
Ad blocker interference detected!
Wikia is a free-to-use site that makes money from advertising. We have a modified experience for viewers using ad blockers

Wikia is not accessible if you've made further modifications. Remove the custom ad blocker rule(s) and the page will load as expected.