Katrina Skullfinder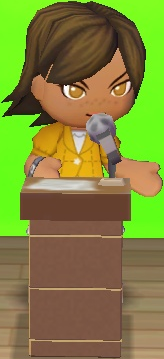 Character Info
| | |
| --- | --- |
| Role | Rich Young Lady |
| Minigame Hosting | Ridiculous Wardrobe |
| Festival? | N/A |
| Area | Twinkle Hills |
Katrina Skullfinder (or Katrina for short) is a minigame host in MySims Party. Her minigame is called "Ridiculous Wardrobe." You and the other players will try and find the item she is asking for such as a pair of glasses or some boots before the time runs out. Every level gets harder so you may have to look under items for something.
Dialogue
During Minigame
Yesterday, I bought some Chaz glasses from Shirley. They're in my wardrobe if you wanna see them but finding something in there would be impossible! Please Help!!
Yay, thanks! Now I can wear this stuff later on like a date or something!!
Ad blocker interference detected!
Wikia is a free-to-use site that makes money from advertising. We have a modified experience for viewers using ad blockers

Wikia is not accessible if you've made further modifications. Remove the custom ad blocker rule(s) and the page will load as expected.