"Buddy", the SIM, redirects here. To see the OC, click, "Buddy Skymay"
Buddy is one loveable guy and a clumsy klutz too. He serves as a bellhop in your town as well as another other town that hosts festivals. He also appears as King Roland's messenger in MySims Kingdom. Buddy also assist's the SPA, being a sketch artist and player's assistant as well as being a pilot in MySims SkyHeroes. He also appears in MySims Galaxy, MySims Agents 2: The Story of Morcubus,MySims Fusion, Buddy's Racing Story, MySims Stranded, MySims Townies,MySims: Build Your Life!, MySims: Buddy of OZ, MySims Islanders, MySims Agents: The Future Mystery, MySims 3', Buddy's Mansion, MySims, MyLife, MySims Action, MySims Super Spiez!, MySims Emerald, MySims Mystery, MySims Finish Line, MySims: Sim's Melee, MySims Fighting and MySims Naruto, in which he is the MySims equivalent of Rock Lee.
Role in Games
Foreign Names
English: Buddy
Dutch: Piet
Trivia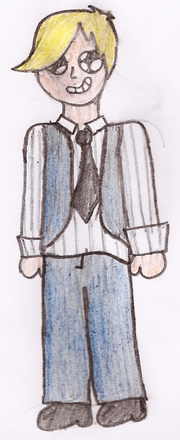 In Buddy's Racing Story, Buddy said he was a bellhop from a small town, which is similar to Roy's job at the apartment building. Although this could be a reference to his role in MySims.
Buddy is always going on about being hungry and has an obsession with food, but his main interest has never been Food or Tasty.
MySims SkyHeroes is the only game where Buddy has no dialogue.
On the MySims Fanon Wiki, Buddy is the main protagonist in a spin-off called MySims: Buddy of OZ.

In the Japanese version, he uses bits of English.

In MySims the Animated Series, Buddy is actually half-Japanese and half-American, and he commonly mentions his mother, Yui Sakuya.

Buddy's last name may be "Sakuya", as this is his mother's name (she took her husband's name, but changed it after dicorving him, which happened before Buddy was born).

In MySims Islanders, he is the only commercial Sim to not share his favourite interest (Fun) with the interest given to his building of residence (Elegant).
Ad blocker interference detected!
Wikia is a free-to-use site that makes money from advertising. We have a modified experience for viewers using ad blockers

Wikia is not accessible if you've made further modifications. Remove the custom ad blocker rule(s) and the page will load as expected.