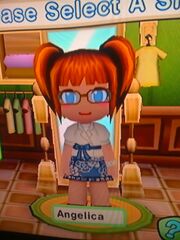 Angelica is a nice girl that is obssessed with books.She is your best friend and she loves mystery books. She stars in MySims 4.
Profile
She has something other geeks don't...MULTICOLORED HAIR (Orange,brown and black).Also,she only gets A+'s.
Interests
Hates
Tasks
Task 1
Description:Ughh! I can't fit all my books in my bookshelf! Can you build me one?
Requirments:Bookshelf with 5 apples
Reward:Heart Sunglasses
Thanking Dialouge:Thank YOU!!!!!(Kisses you on the cheek)
Task 2
Description:I'm...........sooooo..................zzzzzzzzzzz.......tired....
Requirments:Bed with 2 dark wood and 3 roses.
Reward:Pile of books
Thanking Dialouge:Thanks for the good night sleep!
Dialouge
Hotel Description
Oh,Hi [player name]! I've missed you soo much!
Accept Move-In
Yes,I'd love to! Can I be your neighbor?
After You Build House
I can't wait to be your neighbor!
Request For More Stuff
May I have a few touch-ups to my house?
Star Level 2
I just finished a great mystery book! Want to read it?
Star Level 3
Do you have trouble with building? You can borrow my book "The Building Basics and Advanced".[You chose yes or no]
I love being your neighbor!
Star Level 4
Visit the library,its very interesting
Star Level 5
What is the tallest building? The library because it has the most stories! Teehee!
Best Friend
Heres a present,I want to thank you for all you have done for me.
Best Friend Reward
[Boy] Knight's Outfit
[Girl] Princess Outfit
Trivia
Angelica's full name is Angelica Maria Dalisa
She is also best friends with Buddy
Ad blocker interference detected!
Wikia is a free-to-use site that makes money from advertising. We have a modified experience for viewers using ad blockers

Wikia is not accessible if you've made further modifications. Remove the custom ad blocker rule(s) and the page will load as expected.