Adrianne Marilou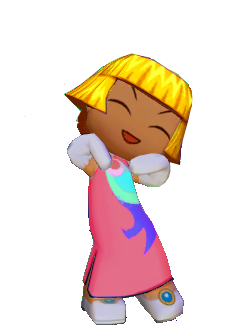 Character Info
| | |
| --- | --- |
| Role | Boutique Owner |
| Location | The Boardwalk, Main Street |
Adrianne Marilou was born in Italy and was raised by a fashion designer and a movie producer. She moved to the Simland Apartment when she was 22 years old and she decided to be a fashion designer as her mother was, and is going to organize her own fashion show at the boardwalk.
Involvement
You first find her on the last floor (The V.I.P. Floor) of the Simland Apartment in Main Street, where she tells you a bit about her life. After you complete Mel's level (Creepy Boom) you receive a message from Summer, telling you excited that there's a fashion show in the boardwalk. You find her there and she tells you what are her strategies to win the fashion show, and she lets escape from her mouth some things that lets you uncover the mystery.
Dialogue
Main Street
Hi, honey! What are you looking for here in my house? Do you want to see some of my designs? Oh! You should wait until the fashion show. My mother was fashion designer in Italy, where I come from!
I never thought of being a movie director, my father was, did you know it? He was called Luca Marilou. Once that I think it, his last name is french.
My life dream is having my own fashion show in the boardwalk!
Boardwalk
Don't you like my clothes?!
I actually never used orange on my designs, but I saw that Sammie uses... Oh! I shouldn't say this! Bye... LEAVE!
Ad blocker interference detected!
Wikia is a free-to-use site that makes money from advertising. We have a modified experience for viewers using ad blockers

Wikia is not accessible if you've made further modifications. Remove the custom ad blocker rule(s) and the page will load as expected.